Yeronga Community Gardens is located at the entrance to the sports ovals at the Junction of Taunton and Oakwood Streets. We meet for 'Community Gardening' every Sunday from about 3.00pm until 6.00pm or dusk (whichever earliest). Gardeners may visit the gardens and garden at any time on weekends, on school or public holidays, or early morning (before 8.30am) or late afternoon (after 3.15pm).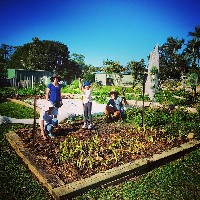 We occasionally hold workshops by request on gardening, horticulture, cooking and food processing topics.
On the first Sunday of every month, we invite you all to our 'Sunset Snacks'. If the weather is cool, we'll fire up the wood-fired pizza oven, or on hot days just go with delicious nibbles which our members put together. We'll provide tea, coffee, cordials and water – if you want other drinks, you are welcome to bring your own and something to share.