We are passionate about establishing, maintaining and rehabilitating natural vegetation along the Brisbane River, which is an important natural corridor within the Brisbane area, and a natural asset central to the amenity of our local area. We enjoy the fun and camaraderie of doing this with others,  and meeting like-minded locals.
The work of our group has many benefits including wildlife habitat, erosion control of banks, and improved amenity for all.  The river edges support a rich diversity of wildlife in Brisbane.  Wedgetail eagles, Buff banded Rails (rare in Brisbane) wrens, kingfishers, lizards, frogs, butterflies and bandicoots are some of the native wildlife present in Yeronga/Fairfield riparian areas.  The riverside vegetation needs our active involvement to manage and improve it.
Join us for one or more sessions focused on weed management and new plantings, and contribute to the long term rewards. Brisbane City Council actively supports this program, and provides access to experts on weed management, native wildlife and vegetation.
We have regular working bees on the 3rd Saturday of each month from 3.30-5pm. Times may vary depending on the season and other events. Please check our facebook page or contact us. Details below.
Yeronga Bushcare has 2 sites.
Site 1: Upstream along the riverbank, from the corner of The Esplanade  and Anita St. This was the original site and is now in further regeneration and maintenance mode

.

Site 2: The Brisbane Corso Park, downstream from the corner of the Brisbane Corso and Otaki Rd. All are welcome to help with planting and general maintenance, as well as meeting fellow workers over a cuppa and biscuit.  All tools supplied.
Some of the recent plantings along the riverbank after one of our working bees. The temporary tree guards help to keep the Brush Turkeys at bay, plus provide general protection.
Plants are selected in accordance with RE (Regional Ecosystems)  12.3.7 of South East Queensland (Queensland Blue Gum and River Oak fringing woodlands)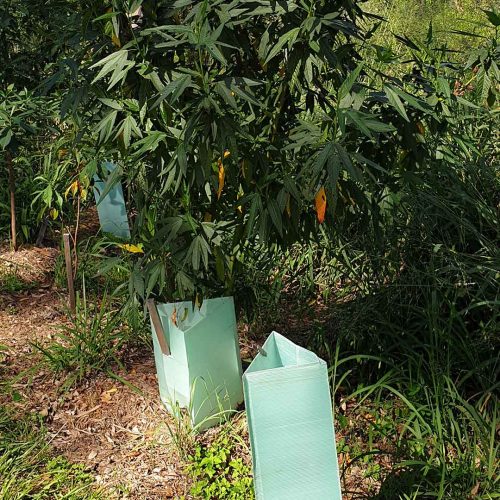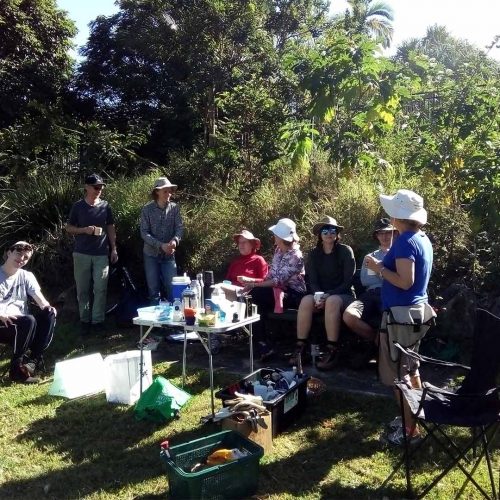 Some keen bushcarers enjoying a coffee and tea break. A great time to catch up with and meet new neighbours. 
The group had their first working bee in 2016. On the day, 80 plants were planted. Working bees involve planting, weeding, watering and mulching. All equipment is supplied.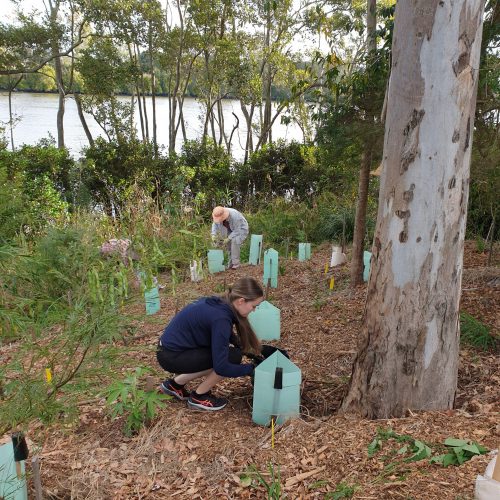 Follow us on Facebook and Instagram: