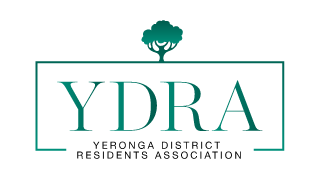 Yeronga District Residents Association
The Yeronga District Residents Association (YDRA) is a non-political community organisation devoted to addressing the issues facing the residents of Fairfield, Yeronga and Yeerongpilly. We love our district and strive to preserve its amenity and liveability through focusing on topical matters of importance to our members. Historically this has covered a variety of issues and in recent times our work has revolved around the development pressures facing our suburbs.
Some keen bushcarers enjoying a coffee and tea break at our latest working bee.  Most plants survived the torrid summer and brush turkeys and are thriving.   We meet on the 4th Saturday of each month from 7.30am-9am – next working bee is April 22nd.
The group recently had their first working bee. Our friendly Habitat Brisbane officer Andrew took us through various weed control techniques and equipment.  We also planted 80 plants – still doing well from latest reports. Another working bee is planned for late November. Watch this space for details!